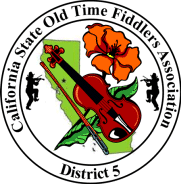 CALIFORNIA STATE OLD TIME FIDDLERS ASSOCIATION DISTRICT #5
Califonia State Old Time Fiddlers Association, District 5 (CSOTFA #5) is a non-profit 501 (c)(3) U.S. IRS # 23-7288853, charitable corporation formed to educate about and perpetuate the art and culture of Old Time Fiddle Music. We are dedicated to preserving and enjoying authentic old-time music, providing a welcoming place for musicians of all levels to jam and perform, and passing down the traditions of old-time country, folk, and bluegrass music to our families, friends, and interested musicians.

2022 Jam Schedule

January 9
February 13
March 13
April 10
May 8
June 12
July 10
August 1
September 11
October 9
November 13
December 11
Notice
Hello to all CSOTFA Members & Friends: Our December Jam will be next Sunday,
December 11th from 1:00 to 4:00 pm at the Orangevale Grange, 5807 Walnut Ave,
Orangevale, CA 95662. Thanks go out to Paul & Carol Spiker for the delicious
pumpkin pies they brought to our November meeting!!! We all know how busy the
holiday season gets but we hope to see you all at the December Jam!

Thanks! Jeff Gebhart

Photos from November Jam


November 2022
♫ CALIFORNIA STATE OLD TIME FIDDLERS ASSOCIATION DISTRICT # 5 ♫
♫ Typical Jam Schedule 12:OO to 4:00 P.M. ♫
12:00 NOON TO 1:00 P.M. ---BOARD OF DIRECTORS MEETING IN COTTAGE.
12:00 NOON TO 1:00 P.M. ---OPEN MIKE ON STAGE.
1:00 P.M.---FULL STAGE ASSEMBLY OPENING WITH THE SINGING OF GOD BLESS AMERICA.
1:15 P.M. TO 2:00 P.M.---STAGE PERFORMERS FROM SIGN UP BOARD.
MEETING ROOM
2:00 P.M.---FIDDLE KIDS PERFORMERS FROM SIGN UP BOARD.
3:00 P.M.--- FULL STAGE ASSEMBLY WITH TWO FIDDLE TUNES AND ONE VOCALIST.
ALL AFTERNOON---THE OAK TREE GANG JAM OUT FRONT AND THE BACK FORTY GANG JAM BEHIND THE GRANGE HALL.
1:00 P.M. TO 4:00 P.M.---DOOR PRIZE DRAWINGS EVERY FIFTEEN
MINUTES (TWO TICKETS EACH DRAWING). WINNERS' NAMES POSTED ABOVE PRIZE DISPLAY TABLE.
4:00 P.M. --- CASH DRAWING. (WINNING TICKET MUST BE PRESENT TO WIN).
· Donate to the Fiddle Kitty at the front door.
· Buy Drawing Tickets at 3 tickets for $1.00 or 20 for $5.00 and donate door
prizes for the drawings. Cash drawing at 4:00 p.m. Must be present to win.

Buy items for sale at our Membership Table:
· Membership Roster $2.00
· Standing Rules $1.00
· Name Badge $5.00
· Cassette Tapes __________________ $7.00
· Cds___________________________ $10.00

· Help cleanup at closing time but not until all the entertainers are off the stage.
If you are a CSOTFA Dist #5 member
and wish to receive the Fiddlers Facts news letter please send email to