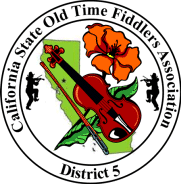 CALIFORNIA STATE OLD TIME FIDDLERS ASSOCIATION DISTRICT #5
Califonia State Old Time Fiddlers Association, District 5 (CSOTFA #5) is a non-profit 501 (c)(3) U.S. IRS # 23-7288853, charitable corporation formed to educate about and perpetuate the art and culture of Old Time Fiddle Music. We are dedicated to preserving and enjoying authentic old-time music, providing a welcoming place for musicians of all levels to jam and perform, and passing down the traditions of old-time country, folk, and bluegrass music to our families, friends, and interested musicians.

2023 Jam Schedule

January 8
February 12


March 12

April 9




May 14




June 11

July 9




August 13




September 10

October 8




November 12




December 10
Notice
Attention all Holiday Survivors: Our first fiddle jam of the new year will be held this coming Sunday,
January 8th, from 1 to 4 pm at the Orangevale Grange, 5807 Walnut Ave., Orangevale, CA 95662.

I hate to make this a snarky report but one of you who attended the last jam in December lost your tuner,
and have probably searched endlessly for it while suffering many a sleepless night. See me to clam it!

Happy New Year to all & looking forward to seeing you this Sunday!

Jeff Gebhart

Photos from November Jam


November 2022
♫ CALIFORNIA STATE OLD TIME FIDDLERS ASSOCIATION DISTRICT # 5 ♫
♫ Typical Jam Schedule 12:OO to 4:00 P.M. ♫
12:00 NOON TO 1:00 P.M. ---BOARD OF DIRECTORS MEETING IN COTTAGE.
12:00 NOON TO 1:00 P.M. ---OPEN MIKE ON STAGE.
1:00 P.M.---FULL STAGE ASSEMBLY OPENING WITH THE SINGING OF GOD BLESS AMERICA.
1:15 P.M. TO 2:00 P.M.---STAGE PERFORMERS FROM SIGN UP BOARD.
MEETING ROOM
2:00 P.M.---FIDDLE KIDS PERFORMERS FROM SIGN UP BOARD.
3:00 P.M.--- FULL STAGE ASSEMBLY WITH TWO FIDDLE TUNES AND ONE VOCALIST.
ALL AFTERNOON---THE OAK TREE GANG JAM OUT FRONT AND THE BACK FORTY GANG JAM BEHIND THE GRANGE HALL.
1:00 P.M. TO 4:00 P.M.---DOOR PRIZE DRAWINGS EVERY FIFTEEN
MINUTES (TWO TICKETS EACH DRAWING). WINNERS' NAMES POSTED ABOVE PRIZE DISPLAY TABLE.
4:00 P.M. --- CASH DRAWING. (WINNING TICKET MUST BE PRESENT TO WIN).
· Donate to the Fiddle Kitty at the front door.
· Buy Drawing Tickets at 3 tickets for $1.00 or 20 for $5.00 and donate door
prizes for the drawings. Cash drawing at 4:00 p.m. Must be present to win.

Buy items for sale at our Membership Table:
· Membership Roster $2.00
· Standing Rules $1.00
· Name Badge $5.00
· Cassette Tapes __________________ $7.00
· Cds___________________________ $10.00

· Help cleanup at closing time but not until all the entertainers are off the stage.
If you are a CSOTFA Dist #5 member
and wish to receive the Fiddlers Facts news letter please send email to